The Aalto University and Aalto Ventures Program would like to warmly invite students to participate in the virtual summer course 'Creating Multidimensional Experiences' which will be held from 3rd to 21st August 2020 at Aalto University, Otaniemi Campus, Espoo, Finland. 
About the course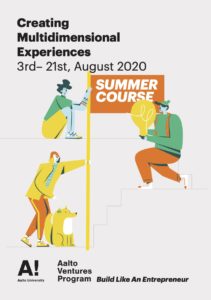 During the virtual summer course, participants will work in international and multidisciplinary teams from an SDG-based problem to a solution. Teams will develop their concepts using iterative, user centric, entrepreneurial process including design thinking, business modeling, prototyping, testing, and eventually pitching their validated business concepts. Students will get immersed to the entrepreneurial ecosystem at Aalto University (as well as in Finland in general) and have an opportunity to network with passionate, inspiring and dynamic people within the ecosystem!
Registration
Individual registrations for the course can be done through the website. Institutional pricing is available for groups of 5 or more participants.
Application Deadline
Application Deadline: June 30th, 2020*
*Application done and submitted before the date
Coronavirus update & Cancellation policy
We have recently decided that our summer course will be organized online due to the COVID-19 pandemic. We will follow the most up-to-date guidance from both sources during the summer. In the unfortunate event that we need to cancel summer course due to ongoing regulations, we will fully refund the payment of the course.
For related questions, please feel free to contact Ms. My Nguyen (my.2.nguyen@aalto.fi) at Aalto Ventures Program.