The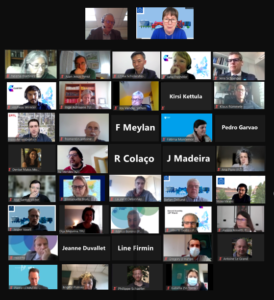 first 2021 Steering Committee (SC) together with the annual General Assembly of CLUSTER was held virtually at KTH, Stockholm from 18th to 19th of March.
Since the previous SC, the newly created Working Groups on sustainable development in engineering programs and on the European Universities Alliances have met twice. The existing Working Groups have also been actively working during this time span and their activities were reported.
The main focus of discussion was the relationship between the CLUSTER network and future partners outside of Europe such as African universities. For this matter the role & admission of associate members is planned to be re-discussed and the creation of a new Working Group about relations with Africa was decided.
Current and upcoming activities of the Consortium were intensively discussed during the General Assembly such as the idea of creating a side event at COP26 to present CLUSTER activities, of giving the Industrial Engineering and Management department a new strategy, of celebrating the 30th anniversary in 2022. The students' implication in the network CLUSTER SC and the future agreement for the SEEEP doctoral training program with China were among the important subjects of this General Assembly.
The next Steering Committee will be held at Université Catholique de Louvain, Belgium, from 28th to 29th of October 2021.