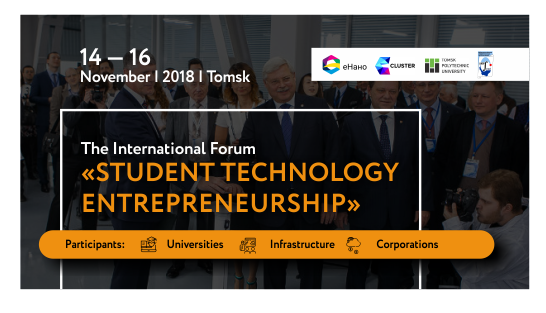 Any modern university takes on additional roles for developing the social and economic environment of its city and region. Institutes for higher education start understanding the importance of entrepreneurship and innovation. Entrepreneurial mission is becoming one of the priority goals for most institutes of higher education in Russia.
One of the instruments to achieve this goal is to develop entrepreneurial skills and entrepreneurial thinking of students. Technological breakthrough is impossible without competent and talented youth. We need specialists who are able to determine development directions, set up goals and take responsibility for them. They should not only find current scientific possibilities but also be able to provide their practical application in order to meet the needs of consumers, industry and economics.
Moreover, it is becoming more and more important for big companies and corporations to have flexible employees who are ready for risk and able to design new products and innovations and bring them into the market.
Entrepreneurial thinking and spirit are becoming necessary competences for engineers and innovators.
The Forum "Student technology entrepreneurship" is a unique platform with an ideal environment for efficient interaction between concerned parties in the field of technology entrepreneurship for students.
The purpose of the Forum is to reveal best practices of entrepreneurial skill development of students from technical specializations and to apply them in modern universities.
The forum tasks:
To gather best practices of developing technology entrepreneurship skills for students;
To share experiences for betterment of existing methodologies for developing entrepreneurial competences of students in the field of science and technology;
To prepare a list of recommendations for the Ministry of Science and Higher Education of the Russian Federation on entrepreneurship education for students with technical specializations.
Main participants of the Forum:
Universities (Russian, Asian and European) – developing entrepreneurial thinking, skills and spirit for students in technology (engineers and innovators).
Infrastructure – searching for competent specialists in technology, innovation, and entrepreneurship.
Corporations – searching for competent specialists for running and developing internal start-up projects.
The organizers of the Forum:
Tomsk Polytechnic University;
Tomsk region administration (on approval).
The partners of the Forum:
Consortium Linking Universities of Science and Technology for Education and Research (CLUSTER);
Association for Engineering education of Russia;
Autonomous non-profit organization «eNano» (RUSNANO group);
Association "Nonprofit partnership "Promotion of innovative technologies "Business partners"
The following events are planned to be held on the Forum:
November, 14th
Forum opening event – discussion platform "Student technology entrepreneurship: the role of the university in developing entrepreneurship competences".
Round table discussions: "Best practices of developing technology entrepreneurship for students", "Corporate entrepreneurship: how to train specialists for corporations?"
7th Annual business projects contest "10K: ideas for life" (satellite event).
November, 15th
Expert seminar "Developing entrepreneurial thinking and skills for students in technology during their education process".
More infos soon! Stay tuned!